Launch of CSR Project "e-lakshyavahini" for haryana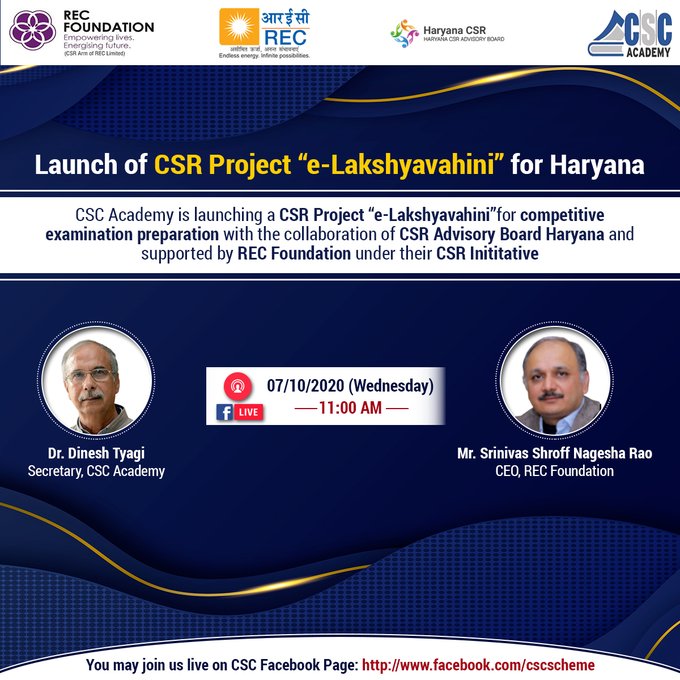 Project Details
Haryana State -(5 Districts )
1-Ambala- 40 Centres-2000 Students
2-Jhajjar- 40 Centres-
2000 Students

3-Jind-
40 Centres-
2000 Students
4-Kaithal-
40 Centres-
2000 Students
5-Yamuna Nagar-
40 Centres-
2000 Students
Total 10,000 candidates will trained under this project
10,000 candidates will be given a facility for preparing and accessing more than 80 central and states competive examinations.
students can choose hindi or english as the medium.
Candidates will have access to preparatory material like quantitave aptitude (mathematical ability ),General Awarness (Awarness (English Comprehension (English Language learning ), Reasoning (Verbal and non verbal ),
Tutorials ,practice question and mock tests , give deep analysis of the preparedness level on subject level ,time taken and progress for the examination.
Rec का एक ऑफिसियल वेबसाइट है जहाँ से आप बिना csc कैंडिडेट रेजिस्ट्रेशन कर सकते है और rec के माध्यम से इसका एक मोबाइल ऐप भी है जहाँ आप कभी भी काम कर सकते हैं ।
इस योजना में आप अच्छी तैयारी कर सकते है जैसे कि ssc, banking,railway, tet,ccc जैसे काम कर सकते हैं |
और जितने भी सरकारी योजना आती हैं पर आप सभी को नही पता चल पाता है ऐसे में आप इस पोर्टल की मदत ले सकते हैं इस पोर्टल में सेंट्रल गवर्नमेंट के जोब्स आते है या दूसरे जॉब्स आते हैं तो इस पोर्टल के माध्य्म से तैयारी करवाई जायगी इसमे बता दू की इसमे दो पोर्टल बनाये गए है जिसमे vle के पूरे डिटेल / प्रोफाइल बताएगा जिसमे आप ने कितने स्टूडेंट को ऐड किया है।